Additional Info
| | |
| --- | --- |
| State | Texas |
| Country | United States |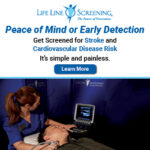 Life Line Screening is the premier provider of preventive screenings for cardiovascular disease and stroke risks.  Since 1993, the company has performed over 10 million screenings across the United States. Each year, Life Line Screening identifies enough people with undetected illnesses to fill a football stadium.
Preventive screenings performed by the company provide peace of mind or early detection for risks of cardiovascular disease and stroke for anyone over the age of 50.  People under the age of 50 can get screened if they have risk factors, such as family history of strokes or cardiovascular disease, obesity, high cholesterol, diabetes, smokers, high blood pressure, etc.
http://llsa.go2cloud.org/aff_c?offer_id=539&aff_id=1395
Campaign ID:  LMAC094
Included Screenings:
Carotid Artery Screening (Plaque)
An ultrasound is performed to screen the carotid arteries (a pair of blood vessels in the neck that deliver blood to your brain) for buildup of fatty plaque. This buildup, called atherosclerosis, is one of the leading causes of stroke.
Peripheral Arterial Disease Screening
An Ankle-Brachial Index (ABI) test is performed using blood pressure cuffs on the arms and legs. It is important to screen for PAD because it increases the risk of coronary artery disease, heart attack, or stroke.1
Abdominal Aortic Aneurysm (AAA)
An ultrasound is performed to screen the abdominal aorta for the presence of an enlargement or aneurysm. AAA can lead to a ruptured aortic artery, which is a serious medical emergency.
Atrial Fibrillation
A 6-lead electrocardiogram (EKG) is performed by placing sensors on the arms and legs to screen for Atrial Fibrillation. AFib can lead to blood clots, stroke, and heart failure, and other heart-related complications.2
Osteoporosis Risk
An ultrasound is performed to measure the shin bone for abnormal bone mass density. This can help assess the risk of osteoporosis, a disease where bones become weak and brittle.
http://llsa.go2cloud.org/aff_c?offer_id=539&aff_id=1395
Campaign ID:  LMAC094
The phone number associated with this offer is (844) 558-0996.
Listing Owner
Member Since: February 23, 2021
Contact Owner
You must be logged in to inquire about this ad.